I was the fourth child born to Willie Mae and Shelton Thornton on December 15, 1938. I was the only child born in the hospital, in Jesup, Georgia, being a preemie, blue blood baby and not expected to live. I was fed with an eyedropper for months till I was able to nurse. My parents were hard- working farmers working with my Grandfather crop-sharing land. My childhood was simple as Mama and Dad moved from the farm doing first plant work during the war to domestic work to support our family. We moved to Glenview, IL when I was in second grade, by then our family was only my brother, Vern and myself, due to the fact that my sisters had already married.

I was a pretty shy youngster, mostly due to t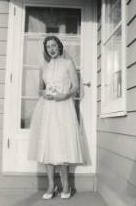 he accent I carried from the South, and living in the North. I dropped out of high school in my junior year at high school, mostly due to not wanting to give an oral book report.
My being a housewife and mother until my children were in their teens, then to go to work got me off to a late start; but in the meantime, I was a Girl Scout leader, president and treasurer of Fire Auxiliary, Job's Daughter's Bethel Treasurer, then moved on to become Insurance Claim Administrator, Greeter at Meijers until I retired, and being a Caregiver for my Mother's Alzheimer disease led me to respite care and working with seniors.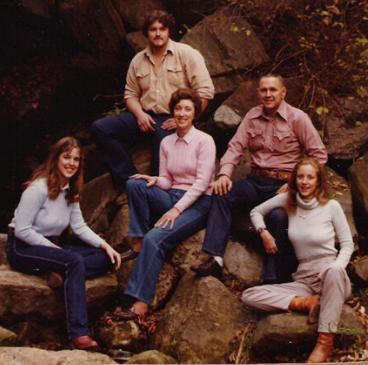 Here is my family: my husband and 3 children in 1981, about 6 months before Russ's death.
Now I am one, a "senior" that is, living in a wonderful senior community. It has me growing again; as I work with the computer, help with social activities and the manager's office duties. I am sure I still have many things ahead to learn and broaden me with growth emotionally, spiritually, and knowledge.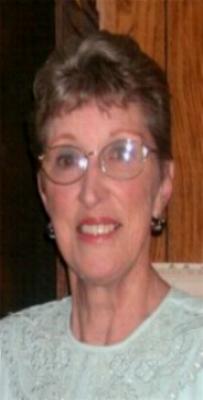 I currently am a member of the Greenwood Christian Church which has added so much to my life. I have learned to "bloom where you are planted" and "stretch myself" to live my life. I try to do what ever is new to me with a happy positive heart, my Lord leading me forward.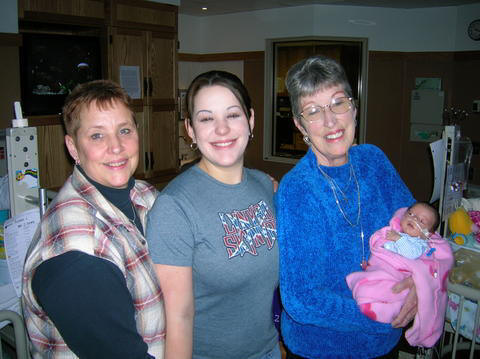 God blessed our family with a beautiful baby girl named, Layla Belle Scott-Brown on Jan. 21, 2006. Pictured above is a four-generations photo. From left to right: Grama Pam Scott, Layla's Mother Tori Scott, Me (The Great-Grama); and I am holding sweet Layla Belle.
I am so privileged to be a Great Grandma and add one more generation to my family. Layla has entered this world with many obstacles including surgery at nine days old for gastroschesis. The wonderful impact on the loved ones around her becomes more apparent each day: she is our blessing from God and will make her love change our lives and according to God's plans. She is 'fearfully and wonderfully made' said the Lord. (Psalm 139:14) Sharing with you my sweet baby, Layla Belle.
I found myself married to my Hoosier hubby, Russ Scott on April 4, 1956.
Being only 17 the relocating to Indy took some adjustments as well as getting settled in a new marriage.
We quickly found ourselves parents of five (5) children in 8 years, which included one set of twins we lost at birth. Our marriage was a real adventure; my Russ was one who kept life interesting from day to day.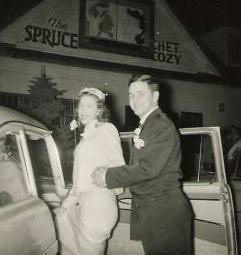 His "Love of Life" he shared with me, teaching us some hard knocks, some maturing blocks to overcome, lots of stumbling through major heart problems with his health. I was truly blessed with the 26 years of marriage I shared with him. His death on Jan. 15, 1982 again made some changes in my life, return to widow/singlehood. His strength became my strength to make a new-to-me life.

As I look back over the years of my life, I see the importance of events, changes, and guidance from God's directing ways. I was baptized by immersion on January 15, 1960, as a young mother with a missing piece to be found for my soul. With this change in me, I started my new growth process in becoming the woman God intended for me to be.
I now find myself writing weekly "Mom's Thoughts" to my children on the Internet with a mailing list, which keeps growing. They say they are inspirational and I am so shocked myself; to be writing anything interesting, remember the shy little girl is still there, although she has grown.
My family has grown with all the mingling of lives through marriage with my children. They now number 3 children, 1 daughter in law, 3 son-in laws, 6 grandchildren, and one great-grandbaby on the way. All are so important to me- I love to see the generation ties come though us all. I see so much of loved ones of years ago, still flowing into their traits and actions. I believe they will pass on down to the coming generations. Family is so very important and always a priority.

I am very much still living this life I have been blessed with. I hope I am being used by my Lord to help others as I depend daily on his guidance on my path. I am sure there are days he would like to give me more than nudges or whispers, for I am stubborn.

When I weekly get to the computer with my thoughts, I have had times when I am blank and not knowing what to write about, given a few minutes of pray and waiting, I get the nudge and the words flow through my keyboard, or the words seem to jump off a page at me, and there is the topic for the week.

Life is full of changes, adventures; I hope I don't miss any in my days ahead. I have been through cancer, radiation, recovery, and believe me - it makes each and every day count to the fullest.
Just about the time I think God can't bless me more, he does. Our beautiful healthy little baby girl, Audrey Madalin O'Brien was born on April 19, 2008 to Scott & Brittiani O'Brien (Dianna Garvin's and Steve O'Brien's son) making me "Nana 2 times". Will hope to get a 4 generation picture soon, till then, Grama Dianna Garvin, parents Scott & Brittiani O'Brien and this Nana are getting all the hugging we can. God is "So Good."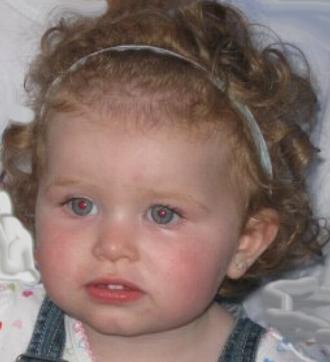 Audrey Madalin O'Brien
at 16 months
After some digging for links to photos of both of my great-grandbaby girls...I found that Pam's Flickr account had photo albums of both Layla and Audrey. So, I have integrated this link into my webpage so you can view both of my lil' darlins'. Click on the link following:
http://www.flickr.com/photos/22419307@N06/
If you want to return to my little webpage, you will have to keep clicking your "back" button in your browser to return from the photo-albums to this page.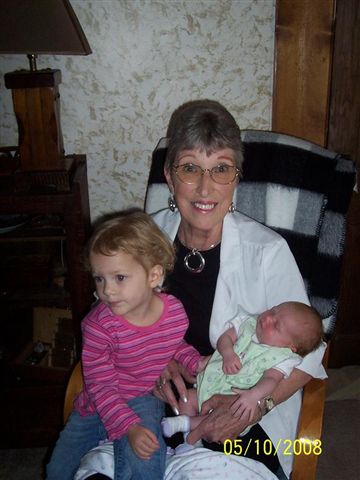 Nana, Layla, & Audrey


It is August 13, 2009, and my 3rd great-granddaughter was born to Tori and Ryan Brown. She weighed 7 lb. and 12.oz. Roxannah Noele Brown is her name, and her picture is below. She is the image of her mother, Tori, when she was a baby. More to follow.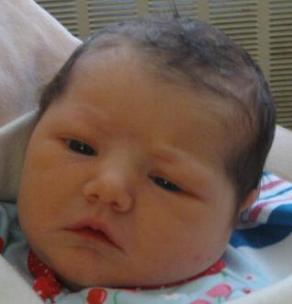 Roxannah Noele Brown
August. 13, 2009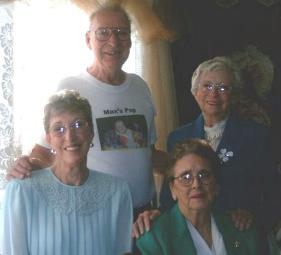 By the way, these are my siblings in a 2005 picture: Clockwise, are Vernon, (deceased in 2007) Alberta, Geraldine (deceased in 2006) and Jan (that's me!)
Please view my Mom's Thoughts for the Week for the current year. I also have archives for 2002-04, 2005-2007, and 2008-2010. Welcome to my blessed world, as I write about it, and share it with my children and other readers every week.
God Bless.